The inevitable finally came, it's time to seal up the schoolhouse for the winter.  It seems like summer just started!  Those of you that have a cabin, you know this day is always kinda sad, but necessary to protect the pipes from a winter freeze.
First up, we made an attempt to stop the drips coming from the belltower.  Fortunately, we had a very heavy plastic roofing mat that we hauled up there and nailed down: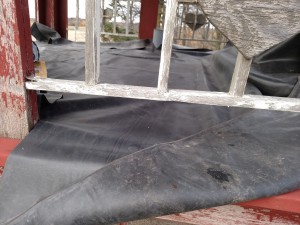 As we worked around the tower, how surprised was I to find not only weeds, but baby raspberry plants growing out of my roof!  Needless to say, I'm not planning a garden up there at this time – out they went.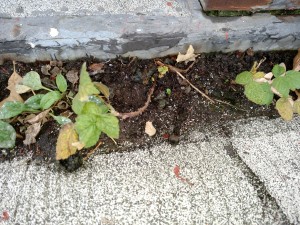 The final product isn't real pretty, but might help hold back the water for another season, crossing our fingers that we can afford a new roof in the spring! The highpoint (and lowpoint) in this particular project was when Kevin called down from the roof with "I have a keg in the basement…" to which I was immediately attentive, until he finished his sentence "…of nails you can go get for me."  Dang.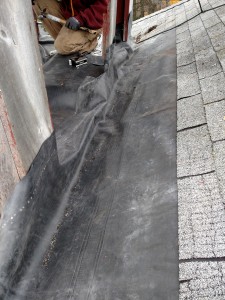 Next, we moved indoors to seal up some of the worst of the drafts.  Hoping this will allow us to work a bit this winter with a portable heater.  Note the fabulous and trendy orange – it's the new cool color all 100-year old schoolhouses are wearing this year.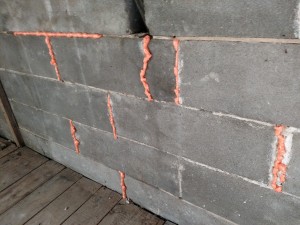 Next, down to the basement, where it appears our opponents have gotten smaller but more tenacious this year.  This is a sheet metal cover (aluminum) that the chipmunks have CHEWED through!  Holy teeth of steel, batman!  Chipmunks: 1, Us: 0.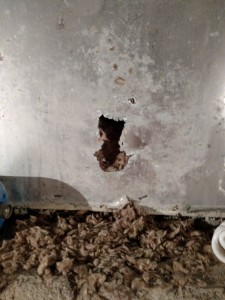 Plugged with steel wool, but I'm not holding my breath that it will slow them down.
Moving outside, did some wood gathering.  This is the leaning tower of death that we have been trying to pull down all season.  Janelle's son Josh came up and did some amatuer lumberjack moves on it, and down it came.  Hooray!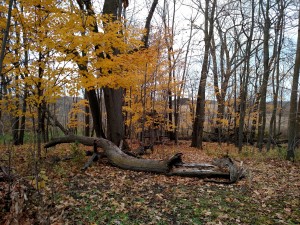 Lastly, the trailer needed to be cleaned out.  Interestingly enough, there seemed to be more in there than we ourselves put in.  Mysteriously, these appeared in a plastic bin, inside a pair of shoes.  Hmmm, maybe  Chipmunks 2:  Us: still 0.