Over the course of the last 2 weeks, our focus has been to get as much plaster into the remaining space in the dumpster before it goes away.  So most of the work has been just a continuation of the lath and plaster removal we've been working on all summer.
The bathroom is 'open concept' now – that's it in the corner.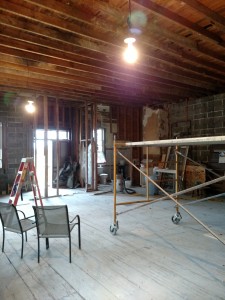 Also down, the last wall standing, which was around the stairs to the basement, has come down.  Will it be replaced? – hard to say.  Some of the fun I have is the 'moving' of walls, rooms and hallways – at least in my head.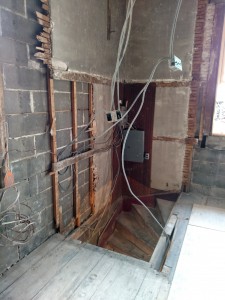 As always, a plan is a plan until it changes for a better plan.  One of our plans was to get a new roof on the school by fall.  Partly, just because it needs done, partly as battle against the raccoons.  But the raccoons seem to be laying low, and the roof is only leaking when it rains, and it seems we have uncovered a larger problem we need to figure out how to address.
We had assumed that the ceiling was supported by long spans of oak clear across the 30 foot width.  But we found, was a stitching together of two boards.  And it seems that the stitching is pulling a little…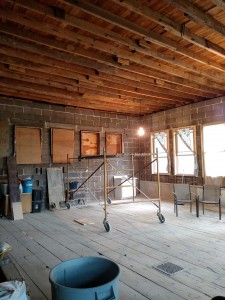 This would be OK if it wasn't sagging, and pulling the roof with it.  So before we get that shiny new roof, we have to figure out how to make sure the ceiling stays put for the next 100 years.
Meanwhile, down in the basement, neighbors Shane and Barkley have once again come to our rescue and liberated the furnace behemoth that lived there.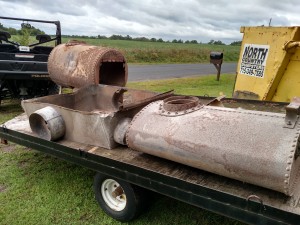 . But we did find some interesting, if not that all valuable treasures…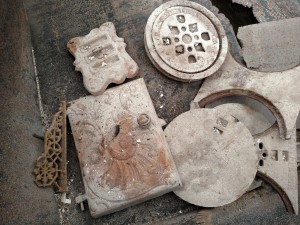 And what is a summer without a summer storm, an evening spent in total darkness interrupting a cutthroat card game to give us a time to lie on our backs and listen to the rain and watch the lightning and count the seconds until the thunder.   Storm damage – 1 giant limb, which has now become firepit stools