Although it saddens me to say so, the proof that the season is ending is all around.  The leaves are already thick around the school.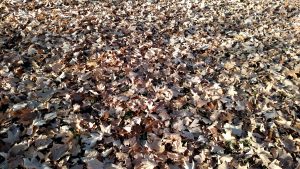 Farmer George is hard at work bringing in the corn.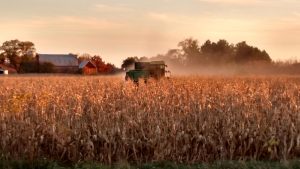 The dogs no longer join us around the yard, preferring instead to hang out in the truck and hope to drive somewhere warmer.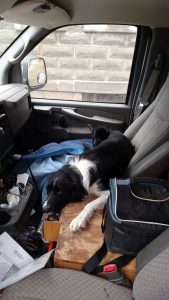 So I have to relent: it is time to tighten up the seals and bring in the flag for the season.
But with the end of the season comes the beginning of a new chapter too.  One of the most frequent questions we get is 'Do you plan on living in the school someday?'  To which the answer has always been "Yes, someday."  But to make that happen, we have to make some big changes.  Kevin found a good job nearby and moved up last spring.  Now it's my turn.  And thanks to the generosity of mom and dad, we will be leaving our ties to 'the big city' and living nearby for the winter, saving up money for some big changes come spring.  Scary and exciting, all rolled up in one!
So one last sunset of the fall, and the schoolday is over.  (But don't think I'm done here ~ check back soon; being closer, I'm sure we will find some winter fun to share with you all!)