I CAN'T STAND IT ANY LONGER!
I've waited and waited for spring to burst upon the school (yes, yes, I know it's only March in Wisconsin), but can't it be time for spring now?  Some days it feels like it.  I had my hopes up for Easter weekend, weather man said some really pretty things, but it was just not to be.  A little cold, a little rainy and just not 'build a fire and sit around it in the evening' kind of weather.
But I am not easily deterred.  Too cool to do much work – both definitions of cool, to be sure, no supplies to start on the inside (I failed to win the powerball this winter, so will continue to save my pennies towards the school).  But I will take you on a tour with me to see how the schoolgrounds weathered over.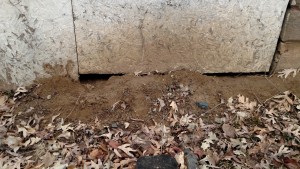 Looks like the war of the critters is still on, found a little speed access hole at the back of the shed.  I really can't wait to get a look underneath this when it comes time to move it.  I imagine it might be like one of those glass ant colonies, but on a much larger scale.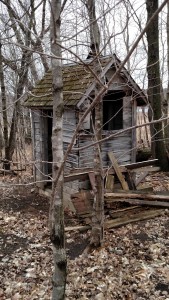 Looks like we could use some window work on the outhouse – getting a bit breezy in there.
We seems to have attracted a Tazmanian Devil, perhaps more commonly known as a Pileated Woodpecker.  The size of the chunks of wood coming out of this stump are more than impressive!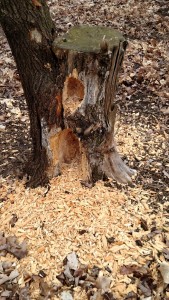 I spy!  Green something!  (I don't care if it's just moss, it's green!)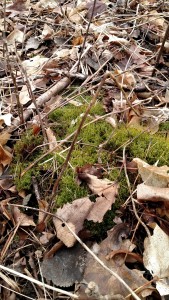 And my most favorite find – the disappearing pond is back.  Won't be long before the frogs will be croaking and we will be pulling the big ones (rocks, that is) out of the 'lake'.  What can I say, I'm a dreamer.  See you all very soon, now that it's started, you won't be able to keep me away too much.