No, we're not renting the schoolhouse out to the highest bidder (although if you really wanted, I suppose we could make the arrangements….).  With each trip north, we make a couple of 'stops':  Menard's, Home Depot, Cub Foods, Sam's Club, the list goes on.  On sitting down with the books this week, we figure the opportunity for us to come to this fine place and work for the weekend is costing us about $200 a day.  But money well spent.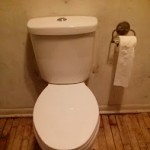 This week's post was almost "We've Got Toilet!", because that was a big accomplishment this weekend.  There was a toilet there, but it was, ah, time to go (pun not intended, of course).  New push button model is a fabulous upgrade.   Took some great pictures of more 'finds' – I'll be creating a Gallery for them soon, check back.  But have to share this one now.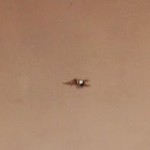 It's a picture of a bullet hole that came through the window some point in the past, through the middle wall, through some hanging clothes, and through the drywall in the back wall.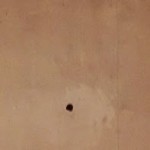 Looking for the bullet when that wall comes down.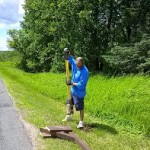 Outside, Kevin put up the mailbox.  Can't wait to go home and mail ourselves a letter!  Last discovery of the weekend was that the reason the corn field across the road isn't growing like all the other corn fields is because it's a bean field.  We think. City folk.