What a great weekend!  But then again, they are all great weekends up here at the school.  We recruited my Mom and Dad to work…er….camp with us a couple of days.  Of course, they were more than willing to pitch in.  It's something about the school that makes you want to be a part of it all.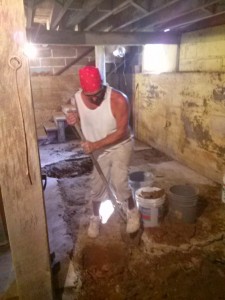 Dad and Kevin started on shoring up the foundation under the bell tower, a process that involved one man digging and handing buckets out the window, another dumping into the wheelbarrow and hauling off.
Mom and I focused on the outside, devising a better step system for the tall school steps, doing some weeding, planting and cleaning in prep for the Ramble next week.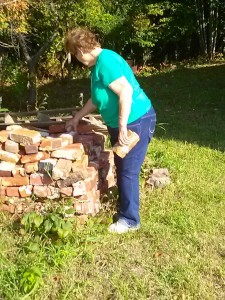 We've added a handrail too – makes it just a bit easier to get to your seat on time.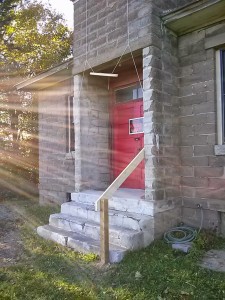 Of course, it's never all just work.  There was listening to the ball game (Go Big Red!), campfire cooking – no, this isn't a marshmallow…look closer, it's an egg.  Interesting experiment…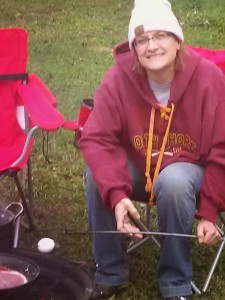 and best of all, spent a beautiful Wisconsin Sunday morning doing a little fishing.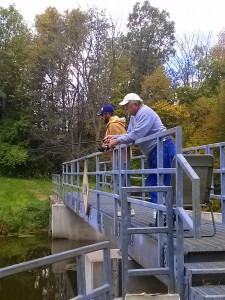 Last but not least, don't forget to come out and visit next Saturday.  Sale outside, tour the one room schoolhouse inside (it doesn't take long).  Cookies and conversation and coffee free!
River Road Ramble
September 23, 2014
9:00 – 5:00pm
2509 270th Street, Cushing, Wisconsin
West of the corner of Hwy 87 and 270th, north of Cushing about 3 miles.
Check out :  riverroadrambler.blogspot.com for more information about the Ramble!