Rainy weekend, but all is not lost. Between hiding in the camper during rain showers, we did manage to get a few things done.
First things first, we raised the flag.
We also got creative in harvesting our pear bounty.  Last year, total pear count was 1.  This year, each branch higher than 10 foot had at least 6 pears each.  Kevin rigged up a 'pear picker' from a paint roller extender and cup – worked fantastically!  I love multi-tasking tools!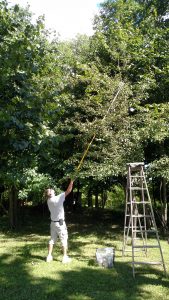 Discovered that the fence at the border of the schoolyard has been there a llooonnnnggg time…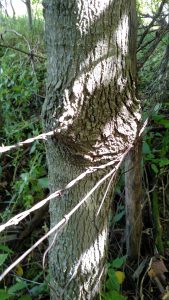 Inside the school, we did a little makeshift temporary work to make life a little easier.  Never underestimate the power of a convenient light switch in the middle of a night, when you're making that midnight run….