A picture speaks a thousand words, so here we go!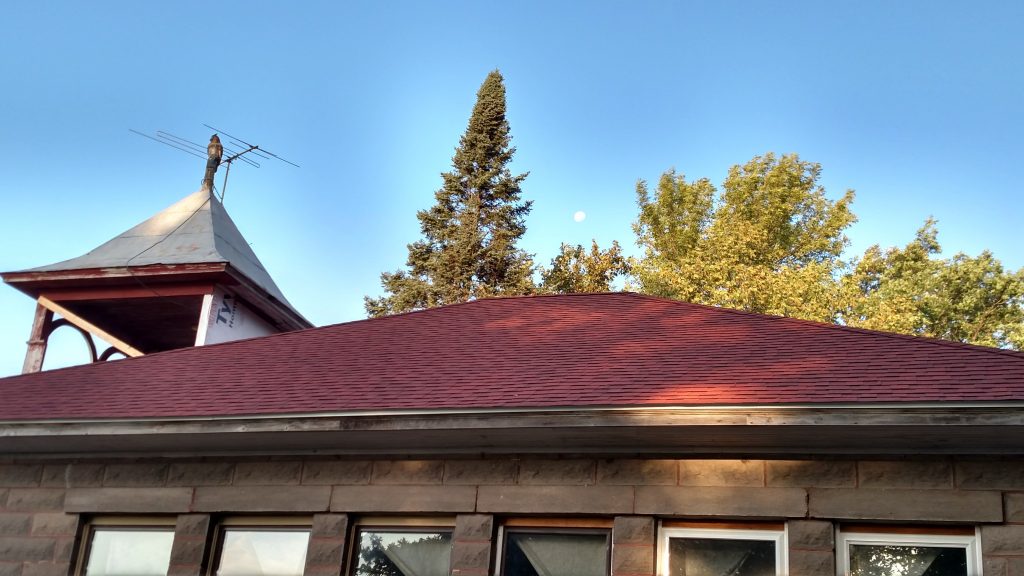 A beautiful morning and a beautiful new red roof!  Words don't begin to describe how good it feels to get to this point.  Everything we've done over the last 3 years has been with the goal of prepping for the roof, and there it is.  I really love seeing it as I'm rounding the corner on 87 (and can't wait to see it after Farmer George harvests his corn this year from across the field!)
Another view (because I assume everyone is as infatuated with it as I am)
This is was an in-progress view when it was all hands on deck, literally!
In dismantling the old roof, the roof caps were really cool.  These almost went back up on the roof, but at the last minute we decided to leave them off in case we can think of another cool use for them where they can be seen up close. 
Next decision is going to be whether we do the bell tower in copper, or leave it tin like it is.  I like it better against the red now than I did before, so maybe I'll solicit another round of votes at the River Road Ramble.
Speaking of the ramble, everyone be sure to stop by the
River Road Ramble
A motor tour of the River Road and Hwy 87
September 23rd, pretty much all day
https://www.facebook.com/profile.php?id=1198977456914718&ref=br_rs
You know how we like to talk about the school  We'd love to show it off in person and we will have the pictures of how it used to be and former classmates there too.  Stop on by, we would love to see you all!