The last month of holiday had us starting one project, stopping for celebrations, eating, napping, starting again with a different project for awhile, remembering what we didn't have for that project, moving to something else.  All in all, a highly disorganized last couple months.  But now that we are coming out of our post-turkey delirium, I can show you some of the work we have gotten done.
Windows.  I mentioned last week how we uncovered one of the west windows.  We started that one before Thanksgiving.  Now we have the second one in.  Just like with the first one, the light that now comes into that area is fantastic!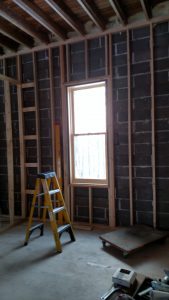 Sealed up with spray foam, they should be free from drafts.  The foam seems to have a mind of it's own.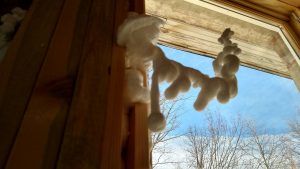 But we didn't stop there! Here's the new bathroom before…(just peer through the see-through walls)…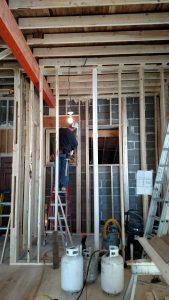 and with 2 new windows….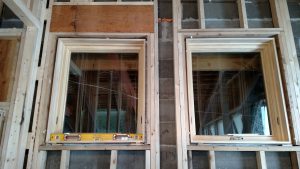 The view isn't as fantastic here, just out to the old shed, but someday I expect to see the northern lights through these while I'm showering.
Walls.  I may have mentioned in the past that one of our goals is to keep the schoolhouse as open as possible inside, to keep that one-room schoolhouse feel.  To that end, we didn't want to put in any more walls than necessary.  Over the last few weeks, we've added all the walls we are going to – a total of two.  The bathroom wall is needed, for obvious reasons, and you just peeked through it above.  This will be the bedroom.  For the longest time our plans had this as square room, but a last minute brainstorm cut off one corner.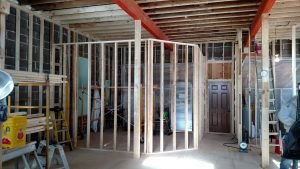 Can you imagine a little vignette here with the chalkboard, school desk, maybe some other school memorabilia? I can.
Last of all, the wandering fireplace.  The original plan had a fireplace 'someday'.  But we realized it would be wise to plan out where it would go before we started having electric wires and vents placed.  So in our minds, it's somewhere on this wall.  South corner? North corner?  Next to the window?  Back were it was to begin with?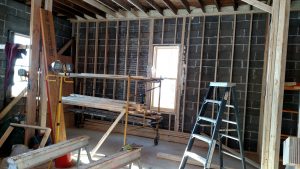 Whaddya think?