Following in the footsteps of the weather that raced from winter to full-on summer in about a week,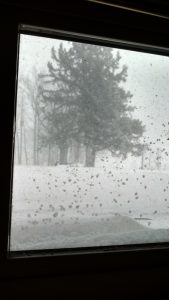 ….we jumped from windows to a real-life room…the first actual room to be added upstairs.  And what better room to start with than the bathroom.

In an attempt to save costs and maximize room in the rest of the school, we have kept this space tight.  It's about 6 x 10″, but with 12′ ceilings, doesn't feel too cramped.  We added a vanity (yet to be finished), a window or three of course, and the rough in for a shower.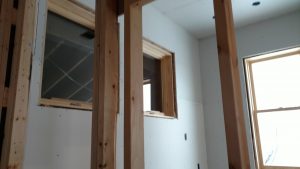 Getting the look and feel has been slow going.  We want to have all the modern comforts (within budget) but still retain a feel that makes you think 'schoolhouse', even while singing in the shower.  We are repurposing the original beadboard from the front entrance as trim on one wall.  It's in pretty rough shape, but some elbow grease, scrubbing, sanding, stain touch-up and polyurethane and it may not look good as new, but certainly respectable, in a still-has-a-story-to-tell way.   We've also been working on matching the stain from the original woodwork to be applied to the trim.  It's proving more challenging than we expected….2 year old pine just doesn't act like 100 year old pine.
Of course, what weekend wouldn't be complete without some additional window work.  
Last but not least, we had extra help this weekend – Chicago supervised and ran the boombox.  He prefers jazz, but settled for country this weekend.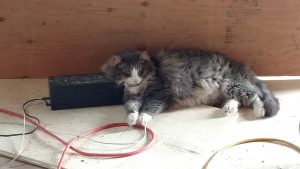 Happy Memorial Day to you all!