Such a great labor day weekend!!! After 5 long years (could it be that long??) of worrying over the bell tower – first trying to stabilize it, then enclosing it, next opening it up from the inside, and now – finally – the beautiful copper colored roof is on! Happy dance!! Here's a before and after comparison.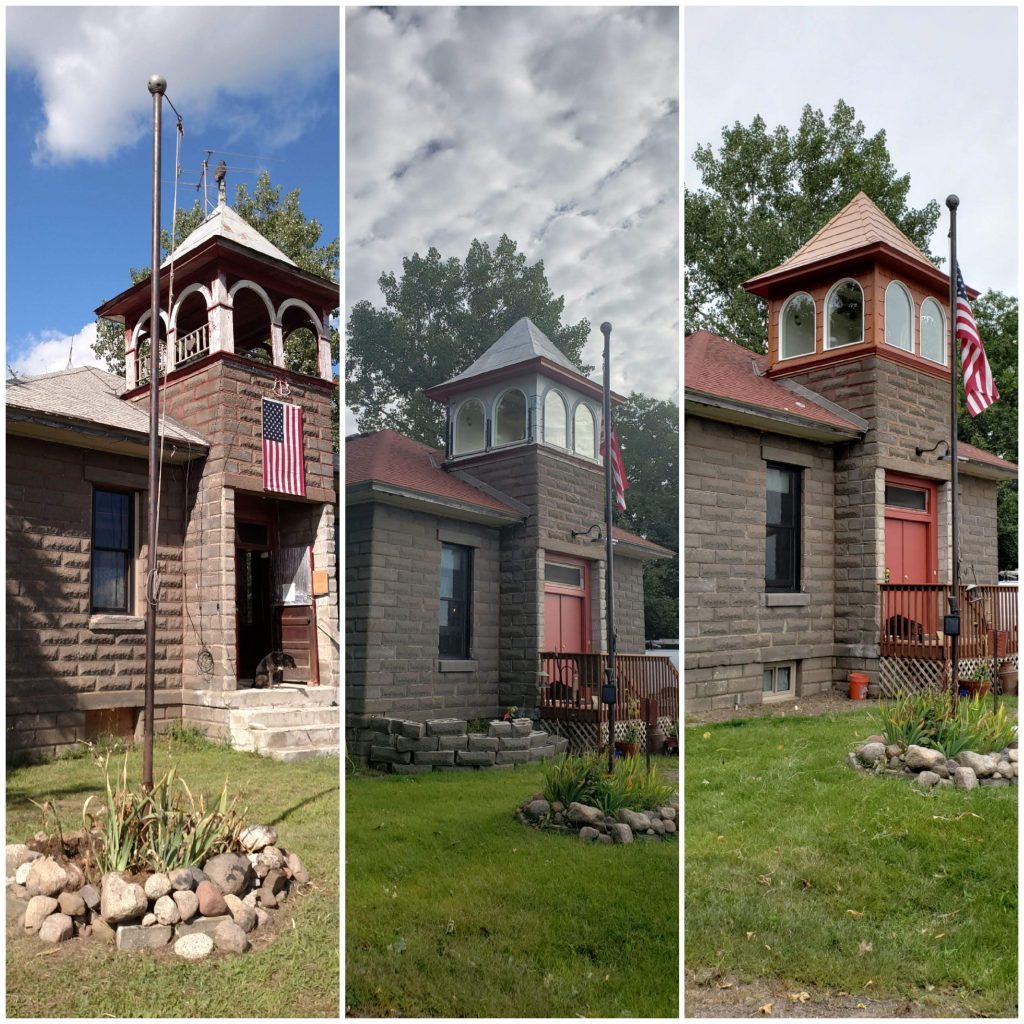 We took some interesting shots from the rental lift while we were up there.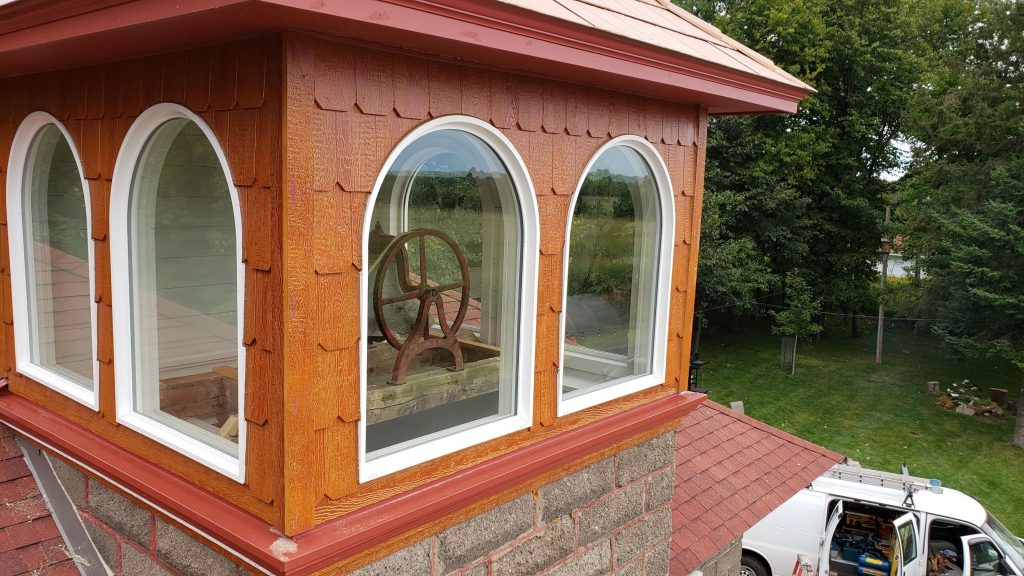 This is the 'faux-drone' perspective.
Betty was even so excited that she dedicated herself to learning to ring the bell. And she did it! I think I might regret her learning this 'skill' at 2am.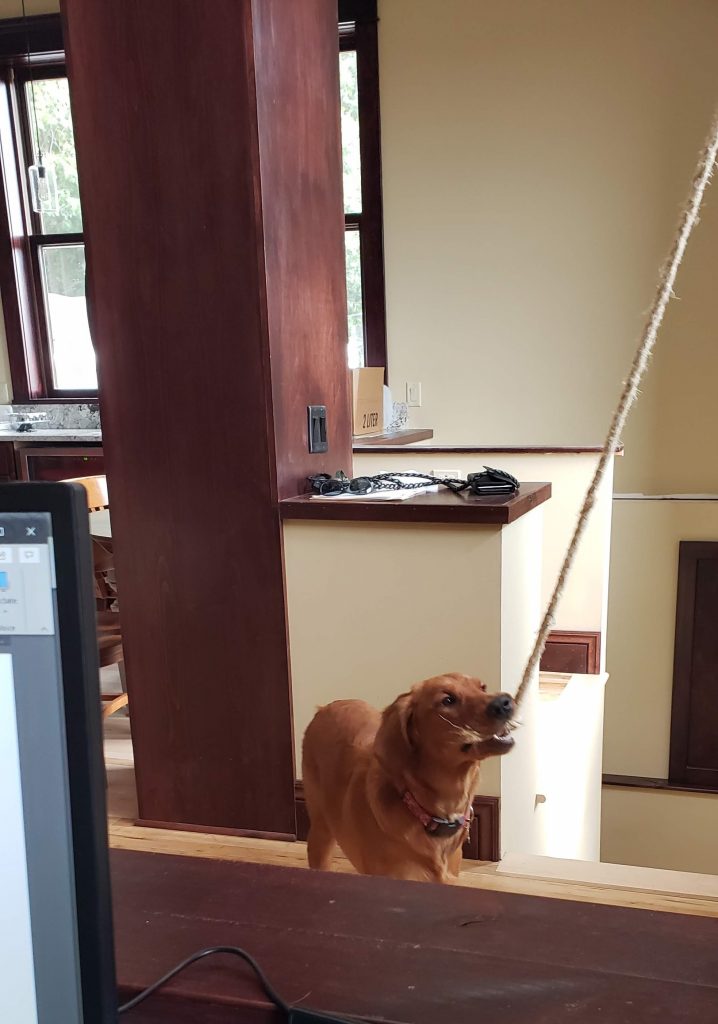 Not being ones to rest on our laurels, or even the couch, really, ha, we just couldn't stop. So we drug out all the lamp parts that were stored in the basement when we first got here.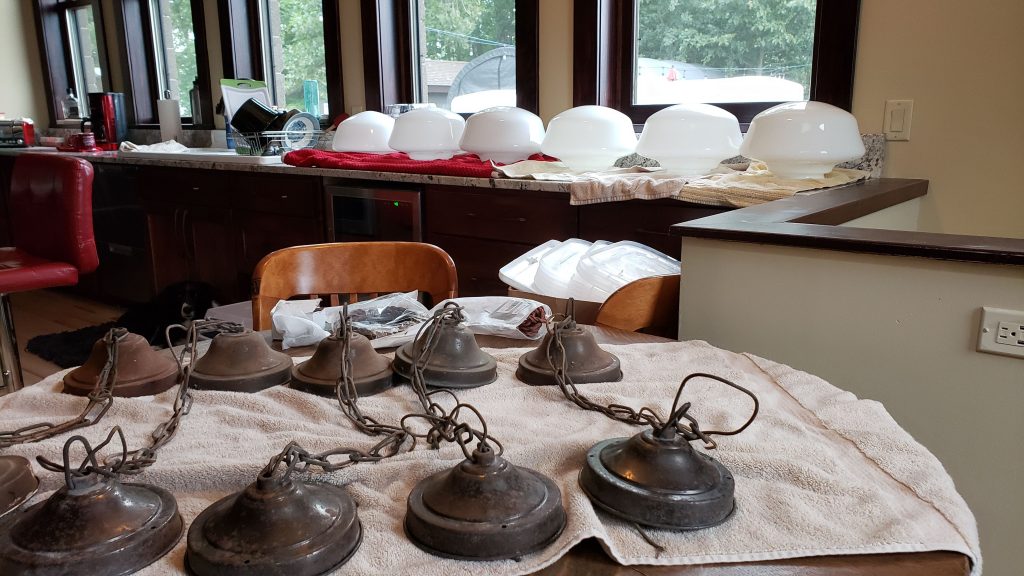 After some creative rewiring, doing some shopping in the basement for things to attach them to the ceiling, and a bit of dusting, we got them all up and working. I have to say – SO COOL! Maybe one of my new (many) favorite things about the school.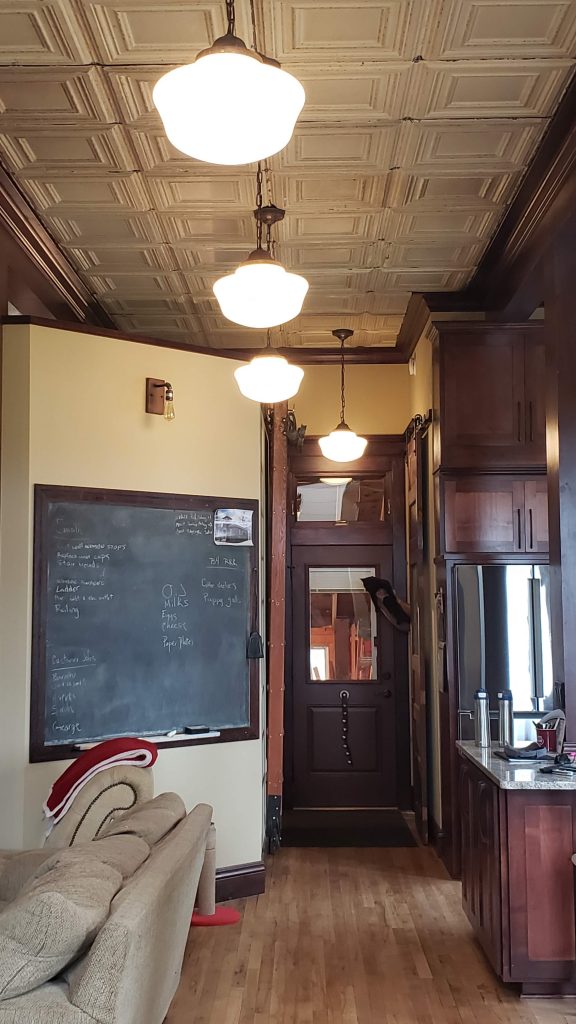 Last but not least – come visit us next Saturday (Sept 26). The great annual River Road Ramble is once again come to town, and we are a historical stop. Take a peek inside the door, maybe buy some of our great STUFF at the sale, enjoy the beautiful fall color (the leaves are really gorgeous right now) or just say hi. We would love to see you all.
15th Annual River Road Hwy 87 Ramble
Saturday September 26th 9:00-5:00
Start at Hwy 87 in either town
Sponsored by Sterling Eureka and Laketown Historical Society
Date:  September 26, 2020   9:00 am – 5:00 pm
or as listed on Ramble Stops
You are invited to take a 30 mile ramble looping up the River Road and back on Hwy 87.  The two roads run between St Croix Falls and Grantsburg, WI.
Stop in St Croix Falls (junction of Hwy 8 and Hwy 35 9-5) at the Polk County Visitor Center and pick up a packet of  information.
Click here for a Tour Guide you can print out to take along
Polk County Information Center
Hwy 35 St. Croix Falls, Wisconsin 54024
Phone 715-483-1410
Toll-Free 1-800-222-POLK
Location: Take Hwy 35 N out of Twin Cities to Hwy 8 Exit then Hwy 8 Wisconsin and turn north on Hwy 87 just into WI at St Croix Falls or Take Hwy 35 to Hwy 70 and then to Grantsburg WI and turn south on Hwy 87.
Then follow the map and RRR signs to visit the Wild River, Garage Sales, Open Houses, Historic Sites, Churches, a winery, a U-Pick orchard, gardens stand and much more. The towns of Eureka, Wolf Creek, Cushing will have local history stops as well as refreshments, places to eat and drink.
Website: http://sites.rootsweb.com/~wiselhs/ramble.html?fbclid=IwAR1YHWjXOlDdSONMjxlD0LpvBUYl_gSB6rS8gQgXeIpqiaAvucznxDJMG7o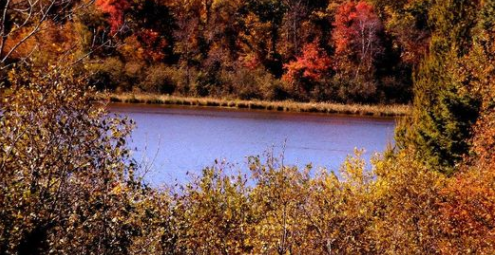 See you soon!!!